Bright Moments!
Bootleg Recordings of Alec Haavik Friction Seven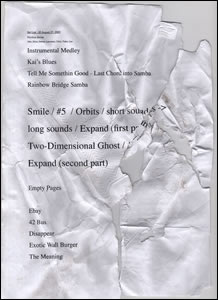 "Y'know, Music is a beautiful thing.
When I am reincarnated, I'm gonna come back as a musical note!
That way can't nobody capture me.
They can use the hell out of me
but ain't nothin' too much they can do to me.
They can mess me up. They can play the wrong note.
They can play a C, but they can't really destroy a C.
All it is, is a tone.
So I'm gonna come back as a note!

Bright Moments!
Bright Moments!
Bright Moments, like making love on a leaky waterbed in a Holiday Inn!"

— Rahsaan Roland Kirk
August 27, 2009
The Shish-Ka-Bob Waltz
I'm always so honored when Greg Smith, guitarist at the Cotton Club, requests my song "Two-Dimensional Ghost". But on this night we had already played it earlier, so I got inspired to sing this special waltz, instead, especially for Greg. Enjoy!
The Shish-Ka-Bob Waltz [Sample]
---
August 20, 2009
Empty Pages
Empty Pages - this was a beautiful jam at the end of the night, around 2am, when only the most stalwart drinkers in the club remained conscious in the cushioned circular booths upstairs. We had some surprise appearances of special guests Peng Fei on violin, Chinese rapper Cony, and Friction trumpet player Theo Croker. These are some highlights of this tune, which lasted 30 minutes all told! To download the entire track in all of its glory as an mp3 file, please login, or register.
Empty Pages (highlights) [Sample]
SIGN UP for the FREE mailing list to Download entire track (16.02) mp3. By signing up you will also get access to exclusive content, rare live recordings, unreleased studio tracks, and more. Your information will be kept private, and never given to third parties.