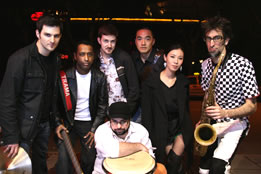 Alec Haavik Friction Alliance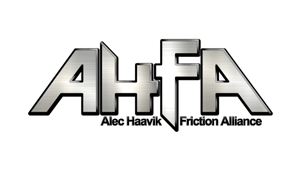 Alec Haavik will bring his music back to JZ Club for five shows only, this March 2012, with the new trio formation of his band, featuring Fred Grenade and Jhonny Joseph./p>

JZ Club, Shanghai, China
46 Fuxing Xi Lu (near Yongfu Lu)
no cover charge

Thursdays in March:
March 1, 8, 15, 22, 29

Alec Haavik Friction Seven


After a stellar five-year run performing every week at JZ Club, Shanghai, Alec Haavik Friction Seven is now taking a much-deserved rest from our most beloved venue. We are preparing to go into the studio to record all of the new repetoire in the last year, including Mind Is a Time Machine, Break Free, Two-Dimensional Ghost, and of course the vocal version of Step Into The Red Ball. This new recording will include the full roster, known as Friction Eight, welcoming Theo Croker on trumpet.

Stay tuned for special performances.

-->

The Friction Seven:
Alec Haavik - Saxophone
Erica Lee - Vocals
Lawrence Ku - Guitar
Steinar Nickelsen - Organ
Tinho Pereira - Bass
Leonardo Susi - Percussion
Chris Trzcinski - Drums
---
Previous Shows
It's Clobberin' Time!
Just because Alec Haavik is a minor celebrity and his band Friction Seven has a weekly gig at the coolest club in town doesn't mean they're too high on their horses to get down-and-dirty and mix it up with the local rockers in an old-fashioned BATTLE! That's right, folks, the Friction posse are gonna THROW DOWN at YuYinTang on Sunday September 27 at 9:06 pm, in the 2009 Global Battle of the Bands - Shanghai heat. Ten bands will compete, and the winner will go on to Hong Kong to compete in the China Finals. The winner of the China Finals will go on to London to compete in the World Finals. If you're in Shanghai, PLEASE come to YYT on Sept 27 before 9pm to holler for us, and to cast your vote. Audience votes count for 20% of each band's total score, so WE NEED YOUR VOTE!

Ten bands will compete in the Shanghai heat on the 27th. We are the first band to go on, and each band gets only 8 minutes to play. So if nothing else, it should be an extremely entertaining night!
Alec and Willow - Double Sax Attack!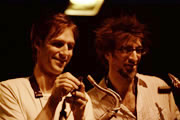 The Alec Haavik Friction Seven was pleased to welcome special guest saxophonist Willow Neilson for Thursdays at JZ: June 25, July 2 and July 9. We had featured some brand new works by Willow which utilize the diverse talents of Alec's top-notch band, such as "Recycling Man", an experimental piece combining jazzy chords with a recording of the infamous bicycle-riding loudspeaker-blaring presence in Shanghai, which calls out "Kong tiao, dian nao, bing xiang, xiyi ji!" ("Air conditioners, computers, refridgerators, washing machines!") We had also premiered a new tune of Willow's in the Afro-Peruvian musical style known as Festejo, a mesmerizing rhythm which is simultaneously in 3 beats AND in 4 beats (and sometimes 6 beats, too!) And of course, Alec and Willow had both picked some favorites from their own repertoires for this double sax attack!
Alec at Cabaret with the Iron Legion!
Alec Haavik made a special appearance with the Iron Legion at Cabaret on June 16. This top-notch acoustic jazz unit featuring Nicholas Bouloukos on piano, EJ Parker on bass, and Chris Trzcinski as they brought a new acoustic dimension to Alec's original music. Cabaret is a great place for a romantic date, or just to hang out, have a drink, and enjoy some great music!
Life, Death, and Everything Else
Sunday Jan 11, 2009

Alec has assembled an unusual quintet featuring two keyboardists and two drummers for a show at the Performance Hall in the Shanghai Oriental Arts Center. The theatre is absolutely beautiful, with a circular stage and steeply sloped seats which wrap around for good visibilty. Most importantly, the acoustics are beautiful. Alec is writing brand-new material, weaving together themes of Schoenberg, Messian, and Bach, and re- inventing them in an improvisational way. Mark your calendars and don't miss this concert. This will be a special event. Before the show, (or afterwards), take a nice stroll in Century Park, located adjacently.
Friday, Oct 3
Element Fresh, Pudong

Alec Haavik Friction Trio
with Huang Jian Yi - keyboards
and Chris Trzcinski - drums
Thursday, Oct 2
Element Fresh, Puxi

Alec Haavik Friction Trio
with Tinho Pereira on bass
and Johnny Joseph on drums
"Hot Jazz and Cold Beer" Festival
Tuesday, 29 July
Chenghuangmiao in Yulongfang
168 Fang bang road
100rmb for men; 50 rmb for women
Includes all-you-can-drink draft beer
(choice of dark or light beer)
Food is also available for purchase.
Infiniti
Friday Feb 1
8pm - 10:30pm
Free
138 Huai Hai Zhong Lu
(Located across the street from
Shanghai "Times Square")


Infiniti
Friday Jan 25
8pm - 10:30pm
Free

Musicians:
Alec Haavik - Saxophone
Tinho Pereira - Guitar
Peter Phillips - Piano and Keyboards
Jin Yong Jun - Bass
Bill Pan - Drums
Infiniti
Friday Jan 18
8pm - 10:30pm

Musicians:
Alec Haavik - Saxophone
Tinho Pereira - Guitar
Peter Phillips - Piano and Keyboards
Jin Yong Jun - Bass
Nicholas McBrid - Drums