2009
It's Clobberin' Time!
Just because Alec Haavik is a minor celebrity and his band Friction Seven has a weekly gig at the coolest club in town doesn't mean they're too high on their horses to get down-and-dirty and mix it up with the local rockers in an old-fashioned BATTLE! That's right, folks, the Friction posse are gonna THROW DOWN at YuYinTang on Sunday September 27 at 9:06pm, in the 2009 Global Battle of the Bands - Shanghai heat. Ten bands will compete, and the winner will go on to Hong Kong to compete in the China Finals. The winner of the China Finals will go on to London to compete in the World Finals. If you're in Shanghai, PLEASE come to YYT on Sept 27 before 9pm to holler for us, and to cast your vote. Audience votes count for 20% of each band's total score, so WE NEED YOUR VOTE!

Ten bands will compete in the Shanghai heat on the 27th. We are the first band to go on, and each band gets only 8 minutes to play. So if nothing else, it should be an extremely entertaining night!
New Photos by Nicky Almasy
Please visit the Photos page to see more.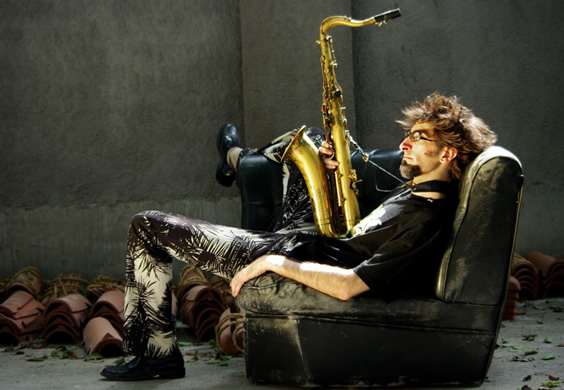 Photos by Nicky Almasy - Summer 2009
The Jenn Chan Lyman Interview
Sax Machine: Alec Haavik
A chat with the local saxophonist, composer and all-around professor of havoc.
Written by Jenn Chan Lyman, for Urbanatomy.com
"The first time I saw Alec Haavik ('Hoe-vick', Norwegian pronunciation) on stage at JZ was one of the moments when I really fell in love with live jazz. If you've seen him on stage, you'll know what I mean. Charismatic and wacky, you can barely tell Alec apart from his saxophone when he's whizzing around on stage, shaking his crazy shock of hair to the beat. He's got an energy that not only infects the audience, but his fellow players as well. You can find Alec at JZ on Thursday nights with his Friction Seven, as well as on Tuesday and Saturday nights playing with J.Q. Whitcomb and the JZ Big Band, respectively."
"Over pita, hummus and a cooper's teriyaki salad, Alec and I chatted at Element Fresh for a couple of hours, taking a tour of musical theory and journeying to Haavik's sub-surface. Minds out of the gutter now, dear readers. Full of heart and spirit, Alec's personable-ness translates offstage as he talks about his family and influences. I was also lucky to hear him sing many animated excerpts of his music. He's a committed Shanghai-er and calls this fair city his home. He's also, as he mentioned during our interview, "made of music." After this journey into the mind of Haavik, I think it's fair to say that yes, he truly is."
Theo's Back With The Friction!
Theo Croker, phenomenon and "enfant terrible" of the trumpet, is back in Shanghai! Alec is very pleased to welcome Theo back into the Universe of Friction, for three special shows... July 30, August 6, and 13. Alec and Theo and the band of Friction are also celebrating he VINYL RELEASE (yes, you read that correctly - this is a vinyl LP record, folks!!!) Of a recording they made last summer, "Eye Opener". Currently available only in Vienna, Austria. More information coming soon about how you can get your own copy.

New CD "Ye Shanghai" Now Available World-Wide

You can now purchase "Ye Shanghai" online at CDBaby.com, the leading distributor of independent music. Coming soon, all tracks will be available for purchase on iTunes and other online retailers. Click here for more info.
Latest Press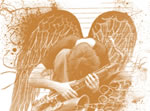 There has been lots of press recently covering our new CD "Ye Shanghai" -- check out this article from the August issue of That's Shanghai magazine, a beautiful nice long interview for SmartShanghai.com, and an announcement of the CD in City Weekend. For more press, please see the Press page.
Alec and Willow - Double Sax Attack!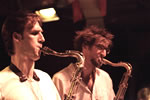 The Alec Haavik Friction Seven is pleased to welcome special guest saxophonist Willow Neilson for Thursday at JZ: June 25, July 2 and July 9. Come witness two of Shanghai's fiercest saxophonists teaming up for a double-saxophone extravaganza! We will feature some brand new works by Willow which utilize the diverse talents of Alec's top-notch band, such as "Recycling Man", an experimental piece combining jazzy chords with a recording of the infamous bicycle-riding loudspeaker-blaring presence in Shanghai, which calls out "Kong tiao, dian nao, bing xiang, xiyi ji!" ("Air conditioners, computers, refridgerators, washing machines!") We will also premiere a new tune of Willow's in the Afro-Peruvian musical style known as Festejo, a mesmerizing rhythm which is simultaneously in 3 beats AND in 4 beats (and sometimes 6 beats, too!) And of course, Alec and Willow have both picked some favorites from their own repertoires for this double sax attack!
Alec at Cabaret with the Iron Legion!
Alec Haavik is making a special appearance with the Iron Legion at Cabaret on June 16. Come hear this top-notch acoustic jazz unit featuring Nicholas Bouloukos on piano, EJ Parker on bass, and Chris Trzcinski as they bring a new acoustic dimension to Alec's original music. Show starts at 9pm. Cabaret is a great place for a romantic date, or just to hang out, have a drink, and enjoy some great music!
2008
"More Than Jazz" Video Posted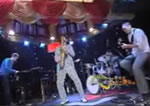 Here are some clips of Alec Haavik Friction Five performing on Shanghai TV. This installment of the show More Than Jazz profiled Alec and his music, and aired on ICS (International Channel Shanghai) on Feb. 17, 2008. Dig the checkerboard suit! See the Video page for more stuff to watch.
Erica Lee with Friction Five...
Special guest vocalist Erica Lee will sing with Friction Five on Thur Oct 16, 10:30pm (first set only). Don't miss this special event!
Oriental Art Center show postponed...
Originally scheduled for Sunday, October 12, the performance at the Shanghai Oriental Art Center has been postponed until Sunday, January 11, 2009, due to a problem with the venue. Those who bought tickets already will be able to exchange them for January's performance. This will be a special event, and well worth waiting for. The show is called "Life, Death, and Everything Else", and will explore the musical and spiritual themes of Messiaen, Schoenberg, and Bach, transforming them into improvisational music.
JZ Festival is here!!! Friday - Sunday, Sept 19 - 21, at
Jing An Park. Don't miss it!
Alec is performing in Bai Tian Sextet, David Friesen Quartet, and Laura Fygi with Rolf Becker and the JZ All-Star Big Band, and also the After-Party on Saturday night at JZ Club. Get ticket and schedule information at www.jzfestival.com
CD Launch Party

Thanks to everyone who came out last Thursday July 24 to celebrate the new Friction Five CD, "Ye Shanghai"! It was an absolutely packed house at JZ Club, and great fun. If you were there you'll recognize the "thermometer" pictured at left, which was updated in real time to show CD sales. If you weren't there, fear not, you get your copy of "Ye Shanghai" from JZ Club, or Graceland store on Wulumuqi Rd., or Music Pavilion on Taikang Rd. in Shanghai.
CD Release Date: July 24

"Ye Shanghai", the long-awaited CD from Alec Haavik Friction Five, will be in your hands July 24! There will be a big party that night at JZ Club to celebrate the launch. Mark your calendars!
Original Jazz Saxophone in Shanghai, China
Saxophonist Alec Haavik brings his original jazz-rock and outrageous performances to Shanghai, China, his current home. His vivid performances are talked-about events, whether appearing solo, or with his international band, Alec Haavik Friction Five.
Introducing "Jazz House"!
At the JZ FUSION 2 party on Wed Oct 24, Alec Haavik Friction Five introduced a new style of music -- Jazz House! Of course there were many glowing necklaces. Check out the pictures on Smart Shanghai.